Anna Frazzetto
Chief Digital Technology Officer & SVP
Harvey Nash
Share this article
Recognizing and Being Recognized in Vietnam
We are very proud of our Vietnam team for recently receiving two Gold Sao Khue Awards in the BPO service and software development categories. Created by the Vietnam Software Association (VINASA), the awards recognize the contributions of organizations and individuals to the Vietnamese technology sector. Vietnam's Vice Minister of Information Technology and Communication presented the awards in Hanoi on June 9. I was in Vietnam two weeks earlier on May 21 meeting with our client The Standard Media Index (SMI) and I had the fortunate opportunity to meet with a group of MBA students from Rider University that were visiting our software development and support services facility in Ho Chi Minh City.
The group traveled to Vietnam to learn more about the country and tour different types of businesses in Asia. Part of their course work focused on globalization and they reached out to our headquarters in Vietnam because they wanted to learn more about a successful business process outsourcing and software development facility. The Rider MBA group was a mix of professors and business executives. We provided a short presentation and took them on a tour of the facility. They also had the opportunity to meet with SMI. The group was blown away with our facility and said they envisioned a much smaller operation and that our center vastly exceeded their expectations. Everyone expressed that they were very impressed with the operations at the facility and asked to stay in touch.
SMI also enjoyed speaking to the group and sharing more about their business' offerings. Based in Australia, SMI is a unique, independent source of advertising expenditure data. SMI combines the financial booking data of major media buying agencies to create a transparent advertising market for the first time. I have to tell you, they are a model client. Their commitment to our partnership and the success of the offshore team through their personal time investment and the camaraderie initiatives they have incorporated into the operation are great examples for others pursuing offshore engagements. We are working collaboratively on aggressively meeting their milestones. I look forward to sharing more about our work with SMI and both new best practices and lessons learned in future blogs.
I left energized from my meeting with SMI about our work ahead. As I boarded the plane in Vietnam to return home, I felt a sense of excitement and pride for our two offshore facilities. Seeing the Rider MBA group marvel at our facility, made me feel a great sense of accomplishment in our Vietnam team and the work they've been doing for the past 10+ years. As I've shared before in my blog, Vietnam has some of the most talented, hardworking IT professionals in the world. Both of our Vietnam facilities are truly world-class centers and will continue to have a significant impact on the international business community. Hearing about them receiving their fourth Sao Khue Award, was the icing on the cake.
Below are photos of our SMI client in HCMC.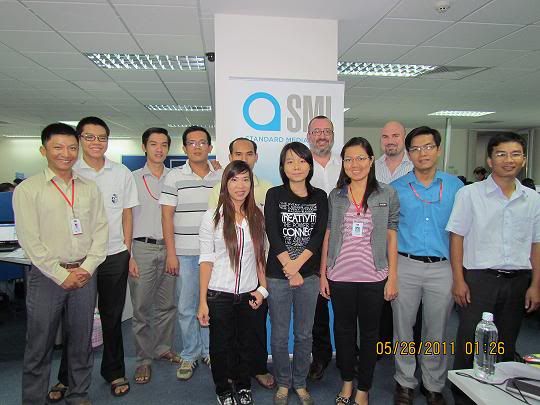 This is our Software Development team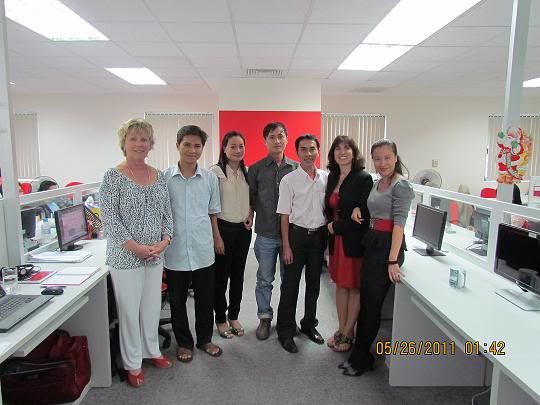 This is our BPO team
And here is a picture of the U.S. delegation from Rider University.